Once your SD card in your camera or microSD card in phone encounters some problems, e.g. you deleted some photos from the SD card inadvertently, or the card was formatted without intention, also memory card may get corrupted/damaged/error sometimes for unknown reasons. You must be very anxious to find a way to recover the valuable photos and videos from the SD card. Do not panic, easy-to-use software tools are available to recover the SD card.
There are several SD card data recovery software in the market, but most of them run on PC platform only (Microsoft Windows). If you have an Apple Mac computer (MacBook, MacBook Air, MacBook Pro, iMac, or Mac Pro), you will need to find a software works with macOS to perform the SD card recovery. CardRescue is one of the top SD card recovery software especially designed and optimized for Mac computer. It can be used to recover lost photos from SD card, SDHC/SDXC card, CF card, and microSD Card. Almost all SD card brands are supported including SanDisk, Kingston, Samsung, Lexar, PNY, and Transcend.
CardRescue software can be downloaded from
https://www.cardrescue.com/download.asp
You may simple download and open the cardrescue-setup.dmg from CardRescue official website, then drag the CardRescue icon to the Mac Applications folder to complete the installation. The download and installation take only less than 1 minute.
After that, you may run CardRescue program from the Applications folder in Finder. On startup of CardRescue, you will need to enter an Administrator username/password to allow it to access the removable device (the memory card). Before the data recovery scanning starts, take the SD card out of your device (camera or phone), then insert it to your mac computer if it features an SD card slot which is usually at the side of the MacBook computer, or front panel of iMac. Otherwise, a USB to SD Card Reader is required to connect the card to your computer. The card slot or card reader lets your Mac read and write data to SD media. When you insert the card, make sure that the metal contacts face down and point toward the computer. Do not force card into the SD card slot, as this might cause damage.
On step 1 of CardRescue, simply select your memory card drive and choose the file types that you need to recover (e.g. JPG, TIF for photos, MOV, MP4 for videos). It also supports most raw image format files used by DSLR cameras like NEF for Nikon, CR2 for Canon. After that, you may click Next and the disk scan on the SD card will begin. Depends on your card capacity and card/card reader reading speed, the full scan takes from a few minutes to 1 hour. Please make sure your hard drive has enough free disk space to hold the recovered pictures and videos.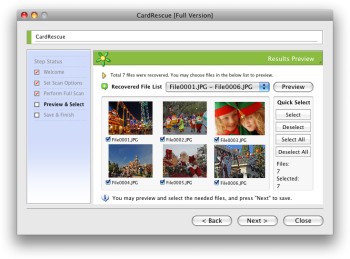 After the scans complete (if you have no patience waiting for it to end, you may click the Stop button anytime to cancel the scan and recover the found pictures only), CardRescue will list all the found pictures for preview. You may select the ones you need to save, or simply save them all. The recovered files will be saved to a folder on your hard drive. After the recover completes, you may open the folder in Finder to view them. CardRescue does not modify or write any data on the card to avoid further damage.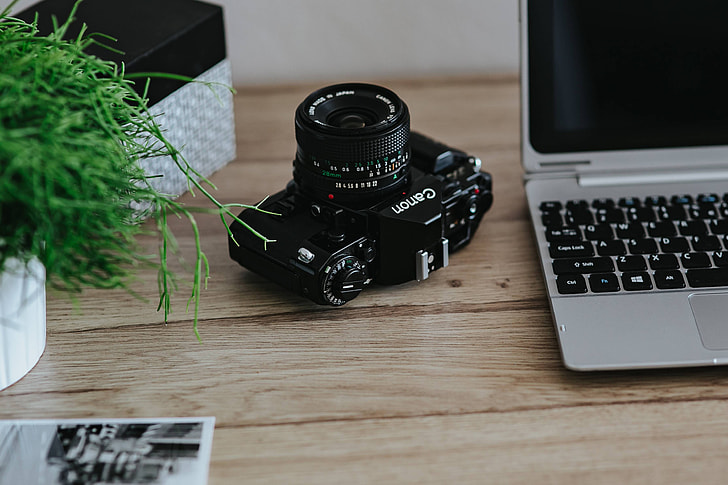 To get a better success rate, it is highly suggested not to write any data to the SD card before you recover them, e.g. stop taking new pictures and videos on the card, if you have to take more pictures on an event, try to use a different memory card. It is a smart choice to take the SD card out of the camera immediately after you realize that you deleted/formatted the card mistakenly. On the other hand, if you have already taken some new pictures before the recovery, you still have a chance to rescue files that have not been overwritten.
If you lost some pictures from your Android smartphone, and they were stored in the microSD card, you can also use the above method to recover them. But if they were stored in the internal storage of the phone, that is not applicable.