As the world leading action camera, GoPro has been widely used by sports or outdoor activities such as surfing, skiing, cycling, hiking … The first GoPro Hero camera was introduced in September 2004, and since then, millions of GoPro cameras were sold. The GoPro video cameras are usually used in haste and extreme conditions, so it is not uncommon that you mistakenly deleted some rare videos in a hurry, or the card got corrupted on video recording due to various reasons like shocking or insufficient battery power.
CardRecovery is the data recovery software specially designed to recover lost videos and photos from memory cards, including microSD card from GoPro Hero series camera, including Hero, Hero Session, Hero Black, Hero Max, or GoPro Drone Karma. CardRecovery has both Windows version and macOS version to work with your PC or Mac laptop or desktop computers. Before recovery, it is very important that you stop recording new videos on same microSD card that you need to recover files from.
Steps to recover deleted video files from GoPro Hero microSD card:
Remove the microSD card from your GoPro action camera.
Connect the microSD card to your computer using a microSD card reader, or a SD card reader with a "microSD to SD adapter".
Download CardRecovery software from https://www.cardrecovery.com.
Install the program to your computer, and open it.
Select your microSD card drive letter in CardRecovery, and follow the wizard step-by-step to complete the scan on the card.
The recoverable video and photo files will be listed to save.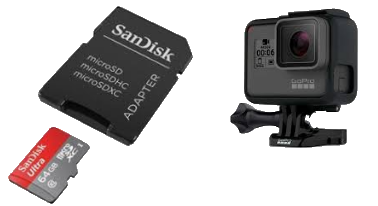 Steps to recover lost files from corrupted or formatted GoPro microSD card
In some cases, GoPro started to show "no SD card" on the screen while actually the microSD card was inserted into the camera card slot properly, or GoPro displayed an error message on the screen states that the card is corrupted/damaged, or there is an error. Or you formatted the card inadvertently and lost all the video/photo files on the card, you may follow the steps below to recover the corrupted or formatted microSD card:
Take the corrupted microSD card out the camera
Read it in a card reader. If it is not appearing as a drive letter on your computer, try to read it in a different card reader and hope it can show up.
Run CardRecovery and select the drive letter of your microSD card to scan.
Select "Generic Digital Camera" as camera brand.
Select Videos -> MP4 as the file type to recover. If you also wish to recover the photos on the card, select Photos -> JPG as well.
Click Next and wait for the completion of the scan.
Select the video and photo files that you need to save.
The data recovery process is quite easy and fast. You don't need to be a computer geek. After the videos are found and retrieved, you can use your favorite video editing software to process them, and share or publish. For the video and pictures were taken once in a lifetime moments, you must be very happy and grateful after they were lost and then back. Besides GoPro camera, CardRecovery software also supports other action cameras like Sony Action Camera, DJI Osmo, Insta360, and MI Action Camera.