SD Card and MicroSD Card

SD Card is the most popular flash storage used by many consumer electronic devices including digital cameras and Android phones. Usually, digital camera uses SD card and phone uses microSD card (iPhone does not use a memory card). Camera or smartphone uses SD card to store photos, videos, songs, apps and user files. The storage unit of SD card is flash memory. Unlike computer RAM, SD card does not require a power to keep the data. Also, it is not like traditional hard drives, there are no moving part inside the SD card, so it is shockproof and not easy to get damaged. Also, SD card is x-ray radiation proof and it is safe to pass through airport scanners. Some memory cards are even water-proof but be sure to let it dry enough before using.
SD Card includes 3 diferent sizes:
| | |
| --- | --- |
| Standard Size | SD Card |
| Mini Size | MiniSD |
| Micro Size | MicroSD |
SD card was first developed in 1999, the physical size of SD card is 1.260×0.945×0.083 inches (32.0×24.0×2.1 mm) which is as big as a stamp. MicroSD card was first developed in 2004, and its former name is "TransFlash". MicroSD card is a reduced size of standard SD card with a physical size 0.591×0.433×0.039 inches (15.0×11.0×1.0 mm).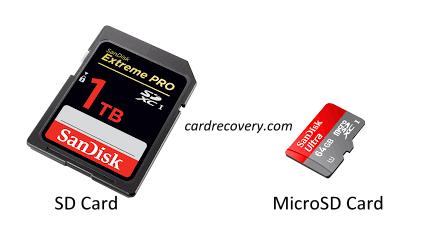 SD card and microSD card are the 2 widely used SD card sizes. SD card is small, high performance, and easy to use so it is more and more popular since 2000. It gains market share fast from other memory card types like memory stick, CF card and smart media card. Now, it is absolutely the memory card type with most market share. SanDisk, Sony, Kingston, Transcend, PNY, Samsung and other flash memory card manufacturers produce billions of SD cards since 2000.
SanDisk, Panasonic and Toshiba Corporation formed SD Association in 2000. SD Association is made up of more than 1,000 member companies involved in the design, development or manufacturer of products using SD standards.
For the storage capacity, there are three types including SD, SDHC and SDXC. The limit of SD card is 2 GB, SDHC is up to 32 GB and SDXC is up to 2TB.
For SD card writing speed, there are several speed classes - Class 2, 4, 6, 8, 10 stands for 2 MB, 4 MB, 6 MB and 10 MB per second. UHS (Ultra High Speed) Speed Class 1, 3 stands for 10 MB and 30 MB minimum writing speed per second, that is also known as UHS-I and UHS-II. The minimum writing speed is very important for continuous picture shooting and HD video recording.



Standard SD card has a hardware Lock switch on the left side. If you slide the Lock switch to the down position, you cannot take new pictures, delete or modify any files on the SD card. If you Inadvertently deleted some pictures from a SD card, it is a good idea to immediately lock and write-protect the SD card and find some SD card recovery software to recover the deleted pictures.
How to choose a proper SD card:
1. SD Card Types:

Usually, digital camera or camcorder use SD card and microSD card for smartphones. If you need a high capacity memory card, SDHC and SDXC are the proper choices. But you need to make sure your camera supports SDXC or SDHC. High speed class SD/microSD card and SD cards from big manufacturers are recommended.
2. SD Card Capacity:

Usually, 1 GB memory card can hold 200 – 500 photos and 10 – 60 minutes videos (depends on the quality and compression rate of the video stream).