The Best Practices to Recover High Capacity SD Card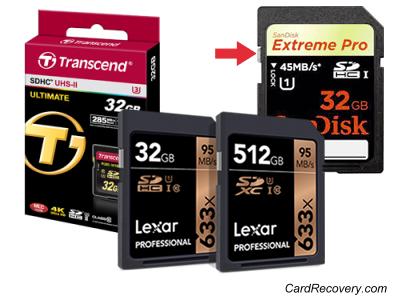 More and more memory card manufacturers now make high capacity SD cards and microSD cards including 128 GB, 258 GB and 512 GB. e.g. Lexar® Professional 633x SDHC™/SDXC™ UHS-I Cards, SanDisk® Extreme PRO SD UHS-I Cards and Transcend® SDXC/SDHC UHS-II U3 Card.

Those high capacity SD card usually has high-speed reading and writing performance (~ 100 MB per second), and the large capacity is ideal for high-quality pictures and 4K UHD, Full HD, HD, 3D or VR video taking. You can shoot longer without changing SD cards. The large capacity SD card stores much more data than before, that also means a data loss may be a disaster for photographer, especially for professionals like wedding photographer.128 GB to 512 GB may hold thousands of photos and videos. A picture or video re-taking costs lots of money and time, or in many cases, that is not possible. So, once you have data loss on a high capacity SD card, data recovery is very important. Here is the best practices to recover high capacity SD cards including recover deleted photos from SD card, retrieve lost pictures from corrupted SD card, or unformat SD card.
The very first step is to stop taking new pictures or videos on the SD card. That is very important. If your data was lost due to deletion or formatting, new pictures/videos taking may write over the lost pictures/movies and make them permanently lost. If your card was corrupted or has file system issue, new picture taking may make it worse, or some camera may force format the card if it detects some errors on the card, which will wipe the data on the SD card completely.


Take the SD card from the camera and write-protect the SD card if possible. You can find the "Lock" switch on the left side of the SD card and slide the Lock switch down (Lock Position). No new content will be able to write to the card after it is locked. That is the safest way to keep the content on the card as is before recovery. If your photo taking session has not ended, you may use a different SD card.


Find a computer (Windows PC or Mac), mobile devices like iPad, iPhone or Android smartphones are not good for data recovery and file recovery. Download and install a SD Card Recovery software. CardRecovery is the leading SD card recovery software in the market for over 10 years. It has both Windows version and Mac version. The download is very fast and the installation is easy. Usually, that takes less than 5 minutes. The software should be installed to hard drive. Make sure you do not install any software to the SD card. You may keep the SD card write-protected (locked position) during recovery.



Connect your high capacity SD card to your computer. Most PCs, Macs or laptops are now equipped with a SD card slot. If your computer does not have one, you may need a USB SD card reader. Most photographers and professionals already have a card reader. High-speed card reader is recommended because fully scanning a large capacity SD card may take from 30 minutes to hours. High-speed SD card reader will save much time for the file recovery. Also, please choose high speed data recovery software like CardRecovery to recover the SD card. The scanning speed of different card recovery software programs are various. Per the tests from several computer magazines and photography media, CardRecovery software is one of the fastest. Using fast scanning software may save you hours for the the photo recovery. Some data recovery programs may take days to scan a SD card over 128 GB.


Please make sure your hard drive has enough free disk space. To recover a 256 GB SD card, at least 256 GB hard drive space is required. If your hard drive does not have enough free disk space, your may use an external hard drive as the destination location to save the recovered files.


Run Card Recovery software, select your SD card drive letter and your camera brand, as well as the file type to recover, then start the scan on the card. Card Recovery supports most raw images formats and video file types.


After the scan completes, you may preview the recovered pictures and save the needed files. The photo taking date/time are kept in the EXIF information block.


After the recovery completes, if you are sure all the needed pictures and movies were recovered, you may format the SD card and re-use it. If the data loss was caused by unknown reasons or you suspected the SD card was corrupted or cannot read/write stably, it is suggested to use a different and new SD card for future picture/video capturing.
Although memory card manufactures state their SD cards are shockproof, waterproof and temperature-proof, but SD card corruption and damage happens. Also, on some busy days and trips, inadvertently deleting or formatting also happens. Data recovery is not always possible to recover all the lost pictures and movies. It is highly recommended to backup your data from the SD card or copy the photos and videos to your computer or cloud storage regularly.