Designed for Windows


Deleted Photos Recovery from Memory Card - Tips and Software
Recover Deleted Photos - CardRecovery Software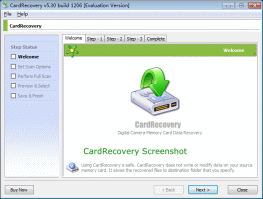 Company: WinRecovery Software
Software Name: CardRecovery


How do CardRecovery recover deleted photos for clients and what is the cost?

CardRecovery performs a fast and read-only operations on the memory card, and retrieve the lost photos and video files to a folder on hard drive.

A single user license of CardRecovery is $39.95. WinRecovery Software provides free evaluation version download, which allows clients to preview the recoverable photos before purchase.

What are the supported memory card types?
CardRecovery supports almost all memory card types including SD, SDHC, MicroSD, CF, xD card and more.

What does the client need to do?

1. Download CardRecovery from www.cardrecovery.com.
2. Attach the camera or card reader to your computer via USB.
3. Start CardRecovery, select the memory card drive which you need to recover deleted photos from, and set the destination folder on the hard drive.

CardRecovery will then fully and automatically scan your memory card, and start retrieving the lost pictures to your hard drive.

CardRecovery has a step by step interface that makes to easily understand software usage without any special technical knowledge.

How often are the products successful in retrieving files?

Above 90% success rate.

What reasons are there why the products wouldn't be able to locate the
missing data?

Some camera may wipe the deleted photos completely and make them unrecoverable. For corrupted memory cards, if they are in very bad condition, probably they are not recoverable. Or if clients have taken new photos on the same memory card, the deleted photos may be written over and not recoverable.

What is your advice to photographers in regards to preventing loss of photos?



Do not turn off camera on reading and writing the memory card. Be careful when using reformat and "Delete All" operations in the camera menu. Re-charge the camera battery before it is used up. If the memory card is suspected or appears not stable, try to use a new and different memory card for photo taking.

What are your do's and don'ts when it comes to advising photographers
on trying to recover their deleted photos?

Don'ts: Stop taking any new photos after clients unintentionally deleted some photos or re-formatted the memory card. If you need to take new photos, try to use a different memory card.

Do's: Use CardRecovery or other photo recover software to recover the lost photos as soon as possible.



What do your users say about your product?

I was shocked when I realized that I accident deleted my daughter's 2nd birthday celebration, as well as our Easter photos but more importantly my 2 year old's first trip to Disneyland. I was so bummed and upset with myself. A coworker told me I might be able to undelete them, I did a little looking online and found CardRecovery with a Google search and within 20 or so minutes, I recovered almost 700 photos. THANK YOU! -- Marion

Card Recovery saved the day or should I say about three days. I had 3 jobs that just disappeared. I downloaded the program and there the images were in just a few minutes. No re-shoots and no having to refund clients who would prefer to receive their memoeries!!! Thank You!!!!! -- K. McGuire http://www.cmphotobykat.photoreflect.com

I recently got a new digital camera, and I had taken pictures at a good-bye party for a favorite co-worker. While playing in the menu, I entered the format function, and unintentionally deleted all of my photos! I cried, and then I Googled. I read through the testimonials for CardRecovery, and I'm so glad I found it. It found all my pictures quickly! Phew! Thank you so much. One tip: My computer didn't recognize the camera as a drive, so I got an inexpensive card reader. That did the trick. -- K. Santichen

My family and I ventured to Florida's everglades where we visited a Gator Park. When I conquered my fear of reptiles by holding a 3 foot gator, my parents snapped a picture as evidence that I actually did it. Unfortunately, while trying to lock the photo, I accidentally deleted it. I was devestated! Until my Dad found this program and it worked. Picture restored! -- Ariel