Why Choose Photo Recovery Software
Once you have lost your life time of photos taken with a digital camera, there are two choices for the recovery of the lost pictures - data recovery software and data recovery service.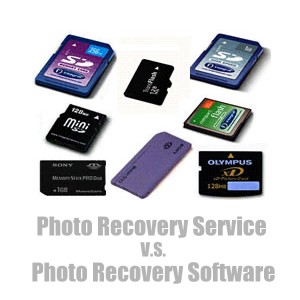 Cost and Price:

Most data recovery service companies charge customers $100 to $1,000 USD to recover a memory card. Some may charge customers several dollars per recovered picture. Handling and shipping fees also apply.

Memory card data recovery software, CardRecovery, is only $39.95 USD for a single user license. There are no late fees and no monthly subscription fees. Customers may use it to recover an unlimited number of pictures, and can use the software permanently to recover an unlimited number of memory cards if needed.
Data Safety:

Data recovery services will require customers to ship the memory card for recovery. The memory card may be damaged during shipping, or get lost. With photo recovery software, customers do not need to ship anything out, and instead, just simply download the software, and use it on their own computer to recover the memory card.
Data Privacy:

Data recovery service providers need to get and access the customer's memory card to perform the photo recovery. The memory card, and recovered photos CD may be lost during shipping. With data recovery software, customers recover the lost photos from the memory card using only their personal computer. No pictures are sent out or viewed by third-parties.
Speed:

It usually takes less than 20 minutes to perform a photo recovery using Card Recovery. The download usually takes less than two minutes, installation takes less than one minute, and fully scanning an 8 GB memory card takes less than 15 minutes. The process is easy and it has a step-by-step wizard. With traditional photo recovery service, it takes from one to three weeks to ship the customer's memory card, and get back the recovered pictures CD or memory card.
Success Rate:

Most conventional data recovery companies just use photo recovery software in the market to do memory card data recovery.