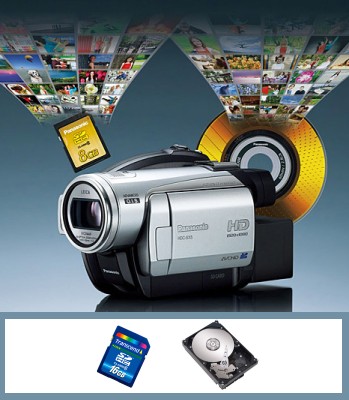 Digital Camcorder (also calls DV, digital video camera, video recorder) records video, audio and pictures on different storage media including the SD card, SDHC card, CF card, Memory Stick, internal hard drive and DVD. Popular camcorder brands include Sony HandyCam, Canon Camcorder, JVC, Panasonic, Samsung, Kodak, Sanyo, SanDisk, Aiptek, Flip and more.
Once you accidentally delete one or more photos, or movie clips from your camcorder or digital camera by accident, or format the flash memory card by mistake, and you want the lost pictures or movies to be restored, memory card recovery software CardRecovery may help. In most cases, CardRecovery is able to recover deleted or lost (format, memory card damage) pictures and video files from memory card, and sometimes from internal camcorder hard disk drive.
More and more digital camcorders now use flash memory for the storage. Some even have both embedded memory and optional external/removable memory card (e.g. some Canon video camera has Dual Flash Memory). SD card (SDHC for bigger size) is better than other media (e.g. MINI DV Tape, DVD). It has a small size and light weight, and it's shock-resistant as there are no moving parts. Also, it has a flexible capacity, high speed, video files on the memory card that can be easily to be transferred to your computer.
To recover the lost video or photo files, an USB memory card reader may be required to connect your memory card to your computer. To recover files from the internal hard drive of a digital camcorder, you may try to connect the camera to the computer via USB, and allow it to appear as a drive letter in "My Computer" (USB Mass Storage). Video files are big. They will take up a lot of space on your hard disk when you recover the lost files from the camcorder memory card, so please prepare enough free disk space on your hard drive.

JPG Files, JPEG Picture Format, Photos


MPEG-2 (SD Video) Movie Files


AVCHD (Advanced Video Codec High Definition), MPEG-4, H.264, MP4


AVI, MOV, MPG, ASF, and MTS Files