After you launch CardRecovery, click "Next" to start the recovery.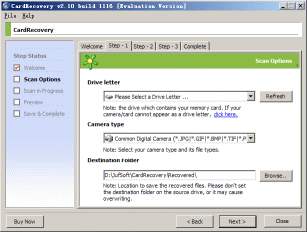 Step 1
1. Drive Letter: Select the drive which contains your memory card. If your card or camera cannot appear as a drive letter in "My Computer", an external memory card reader is necessary.
2. Camera Type: Select the camera type you use, it will help CardRecovery determine photo file formats it needs to detect in the following scan. If you're not sure about the camera type, select "Generic Digital Camera".
3. Destination Folder: Specify the destination folder to save the recovered photos and files. CardRecovery will give you a default location.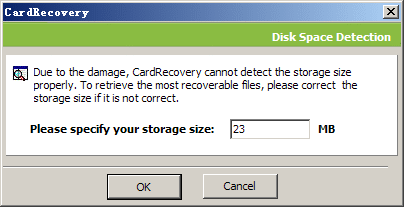 After you complete the three options in Step 1, click "Next" and CardRecovery will detect the memory card size, if it's incorrect due to some reasons, please modify it to its proper size and it will help CardRecovery detect all the recoverable files from the storage.